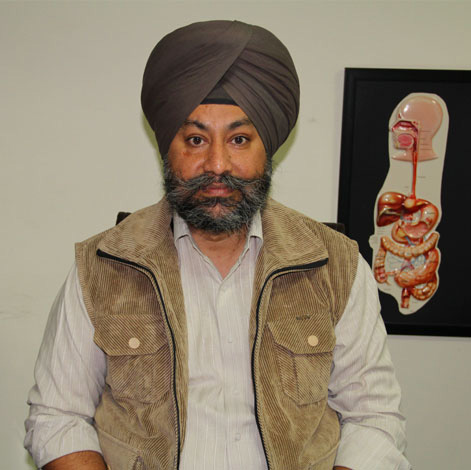 Dr. Kanwal Jeet Singh
MS Gold Medalist, 3 Yr. Post Doctoral Fellowship Surgical Gastroenterology and Laparoscopic Surgery, Sanjay Gandhi P.G.I of Medical Sciences, Lucknow
RESEARCH
APPOINTMENTS
Dayanand Medical College & Hospital, Ludhiana

Govt. Medical College & Hospital, Chandigarh

Sanjay Gandhi P.G Institute of Medical Sciences, Lucknow

Consultant & Head, Guru Nanak Mission Hospital, Jalandhar

Consultant & Head, SGL Charitable Hospital, Jalandhar

'the one stop hospital for all your Gastro problems'
'a good set of bowels is the greatest gift of nature to humans'
Introducing myself to you, I am a general surgeon formally trained in the superspeciality of Gastrointestinal Surgery, Laparoscopic Surgery and Therapeutic Gastrointestinal Endoscopy from the prestigious Sanjay Gandhi Post Graduate Institute of Medical Sciences (PGI) Lucknow. I have the privilege of being the first formally trained GI Surgeon of Punjab.
I have headed the GI Surgery departments in Guru Nanak Mission Hospital Jalandhar for 3 years and SGL Superspecialty Hospital Jalandhar for 8 years. I am also Heading the dept. of GI & Laparoscopic Surgery and Therapeutic Gastroendoscopy in the IVY Superspecialty chain of Hospitals, Punjab, as a visiting consultant (twice weekly consultation by appointment) in Nawanshahar.
I have recently started Gastrosurgery Centre at the 'Healing Touch Hospital' in Jalandhar. It is the first dedicated Gastrosurgery centre of this region. We have full expertise in managing all Gastro. problems in this centre. We have already carried out a good number of highly complicated extra major procedures in our centre successfully. Patients from adjoining areas of Punjab, Himachal and J&K are being referred to us for complicated gastro. issues, as I am the only trained GI Surgeon in this region. We are providing surgical expertise for all Cancers of the Gastrointestinal Tract starting from the Esophagus all the way to Rectum & Anal Canal (Esophagus-Stomach-Liver-Pancreas-Gallbladder-Small & Large Intestines) in addition to other serious diseases of the Gastrointestinal system like Hepatitis B & C, Cirrhosis Liver, Pancreatitis, Ulcerative Colitis etc. A specific area of our expertise is in managing patients who have developed life threatening complications due to operations done elsewhere. Such patients are usually refd. to PGI Chandigarh or DMC Ludhiana. I am also operating in almost all parts of Punjab as an expert to salvage patients who have developed serious complications following abdominal/laparoscopic surgery performed on them by other surgeons. My centre is equipped with finest machines required in the operation theatre as well as ventilators, monitors etc. that are usually required after such complicated operations. This is in addition to the latest video-Endoscopy machine for diagnosis of gastro. problems. We have a tie up with the finest centres in the city for CT-MRI and Blood Bank Support for managing such serious Gastro. patients.
The Gastrosurgery Unit of Healing Touch Hospital is a 'one stop centre' for all gastro. Problems, may it be minor acidity, to gallbladder stone surgery, to major operations for GI cancers, complications of surgeries performed in other hospitals and lastly, salvaging seriously ill patients mismanaged at other centers.
We are using fully disposal ETO sterilized operation theatre linen to reduce cross infections from patient to patient (no other hospital in Punjab is offering this luxury). Since I am residing in the hospital premises itself, my patients have the privilege of my full time involvement & supervision.
I invite you to my clinic for looking into the gastro. problems of your patients. It would be in your interest to fix an appointment telephonically prior to referring your patients to my centre, as I am usually busy in long operations in my own centre or elsewhere (in station/outstation). This would save your patient a lot of precious time and discomfort.